SAVE THE DATE!
CRMTA will hold its annual Conference and AGM May 26-28, 2017 at the Delta Calgary South Hotel. All CRMTA members (including current students) are invited to attend.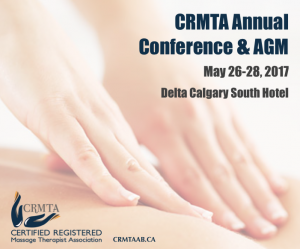 This conference is an opportunity for CRMTA members to network with other Massage Therapy professionals, access the highest quality business resources, theoretical information and practical holistic health skills to achieve their CE requirements, and participate in the AGM and help shape the future of their association!
Current confirmed topics include:
Orthopedic Massage by James Waslaski
Introduction to Oncology Massage
Self Care with Critical Alignment
Staying Current with your Business
How to register for electronic submissions
How to register with RCMP/Veterans/Military as this online and form registration is quite confusing to complete and submit
How to bill with insurance
How to collect and submit continuing education credits
How to renew with CRMTA
Licencing and renewal with your city
To see the full conference itinerary and registration form, Download the Delegates Package.
Event Details:
WHERE: Delta Calgary South Hotel: 135 Southland Drive SE
WHEN:
Friday, May 26, 2017 (10:30 a.m. – 6 p.m.)
Saturday, May 27, 2017 (7:30 a.m. – 10:00 p.m.)
Sunday, May 28, 2017 (8 a.m. – 1:00 p.m.)
Registration Costs:
Full Conference: $399
Student Registration: $99 (Apply for our 2017 CRMTA Conference Scholarship to completely subsidize your registration fee!)
Student Gala Ticket $60
Gala Dinner Ticket: $75
Massage Table Rental: $25/day
For more information on the conference or to register, download the Delegates Package.
NOTE: Full payment must accompany registration. Payment can be made by cheque, Visa, MasterCard, or cash. Please make cheques payable to CRMTA. Mail or drop off entry to: Suite 212, 5615-101 Avenue NW, Edmonton, AB T6A 3Z7 c/ o Conference Coordinator, or email [email protected]
To apply for a student scholarship, download the Conference Scholarship form.
Become a Sponsor or Exhibitor
CRMTA's 2017 AGM & Conference will attract more than 150 massage therapists from across the province of Alberta. Want to meet them? Learn how you can become a sponsor or exhibitor!
Have questions? Contact Us for more information!